jennifer on wikimedia commons
For Star Trek fans, space may indeed be the final frontier. For RVers, space isn't someplace we can head for (at least, not yet), so for 'final frontier' RV goers, consider putting Alaska on your navigation console. December is an excellent time to start planning for an Alaska summer adventure. A key point to plot in? Denali National Park, centered right on North America's highest mountain, Denali, or Mount McKinley.
The park itself covers six million acres, and only a tiny fraction is accessible by RV. The main north-south running road through Denali is a short, but spectacular 91-mile roadway that runs more or less parallel to the Alaska Range, rugged-looking bunch of peaks if ever there were. Don't worry about how far you might have to drive over rough roads in your RV along this one – only 15 miles are accessible to us mortals, the balance of the roadway is handled only by concession operated busses. Still, the views from these busses are spectacular, and it's a good time to think about reservations, but we'll come to that later.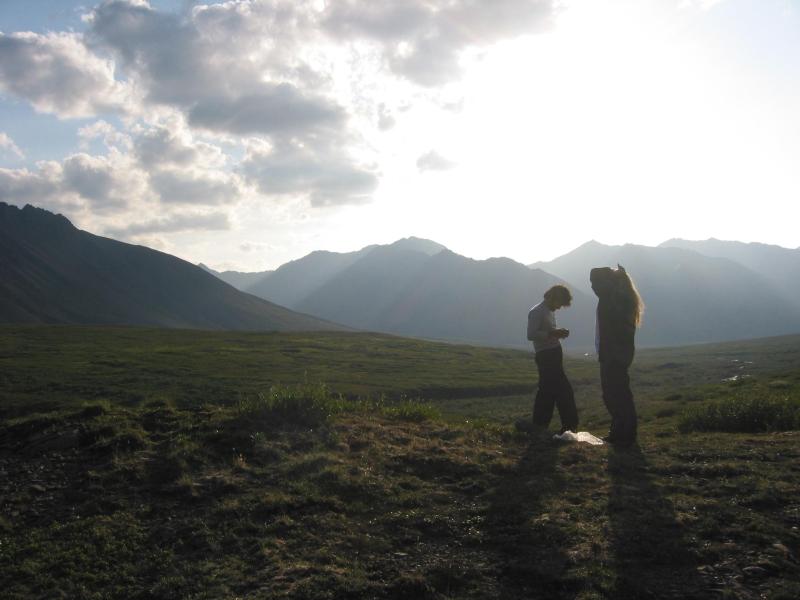 NPS photo
Park tours can give you great views, but an educational experience as well. The Tundra Wilderness tour routes visitors through boreal forests to rugged tundra, and alongside some hairy cliffs with nasty drop-offs. Maybe that's why only the concessionaires get to drive these roads – no guardrails, so not for the faint of heart. Don't worry, you can watch your heart rate return to normal from the comfort of your RV, when your safely back home at one of the park's campgrounds.
Riley Creek Campground is just inside the park entrance, and can handle rigs up to 40'. Rates for RVs range from $22 to $28.00. Farther up the park road, at milepost 13, you'll find Savage River Campground, with the same size restrictions and fee structure as Riley Creek.
Teklanika River Campground is a special exception to that, "can't go any farther than 15 miles on the roadway." If you stay at Taklanika River, you can drive your rig in as the campground at Mile 29. The campground will handle RVs to 40' long, and charges $16 a night. But there's a catch: You must stay at least three nights at Teklankia, and your righ can't leave the campsite until you're ready to head back to the park entrance.
Be ready to "rough it" at any of the Denali campgrounds – there are no hookups. You'll definitely be having an Alaska boondocking adventure.
Now, about those reservations: Park concessionaire, Donyon/ARAMARK handles reservations for both the shuttle buses and the park's four largest campgrounds. The outfit began accepting advance reservations for the 2014 on December 1. Reservations are taken by phone, on-line or mail. Reservations are no longer being taken via fax.
Approximately 65 percent of the shuttle bus seats and 100 percent of the campsites in the Riley Creek, Savage River, and Teklanika River campgrounds can be reserved in advance. The remaining tickets are made available for advance or walk-in reservations two days before the travel date.
The shuttle bus system is designed to provide transportation into the heart of Denali National Park and Preserve for visitors who wish to view the park's scenery and wildlife, access campgrounds, go hiking for the day, or take an overnight trip into the park's backcountry. Drivers will answer questions and help visitors spot wildlife. The shuttle bus system will operate from Tuesday, May 20 through Thursday, Sept. 11, 2014, weather permitting.
Here's the information you may want about shuttle bus prices. Adult single trip fares from the Toklat Eielson Visitor Center Wonder Lake Kantishna trip, range from $27.00 to $51.50. The camper bus fare (for campers in park campgrounds or with backcountry permits) is $34.50.Children age 15 and under ride free on shuttle buses and half price on tour buses. A maximum of eight shuttle bus seats may be requested with each reservation, and ages are required as age discounts may apply. Be prepared to provide alternate dates and times when possible.
There are also two multi-trip bus pass options available for visitors who plan to do multiple trips during the same summer. The 3-for-2 pass allows one individual to travel into the park on three separate trips during the same summer season for the price of two trips, provided the third trip is equal to or of lesser value than the first two. A reservation is required for each trip, which do not have to be taken on consecutive days. Reservations can be made in person at the Wilderness Access Center or Riley Creek Mercantile in the park, or by telephone at 800-622-7275.
The 6-pack allows a visitor to travel into the park on six separate trips during the same summer season for a discounted rate, i.e. $41.25 for destinations as far as the Toklat River (Mile 53), and $61.50 for destinations as far as Kantishna (Mile 92). The 6-pack is good for only one individual, i.e. is not transferable, and the first bus trip must be reserved when purchasing the 6-pack. There is a minimum of five days between trips. All reservations must be done in person (valid ID required) at the Wilderness Access Center or Riley Creek Mercantile.
Phone reservations can be made by calling 800-622-7275 nationwide or 907-272-7275 for international callers between 7 a.m. – 5 p.m. (Arizona time). The web address for on-line reservations is www.reservedenali.com. For mail-in reservation requests information, give the outfit a call.
Source: reservedenali.com and rvtravel.com